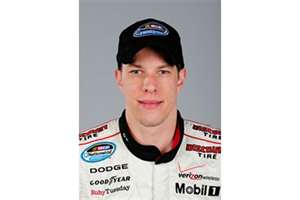 Major Sponsers,

Craftsman Truck Series,
2004 K Automotive
2005 SUBcrews
2006 Melling Engine Parts
Busch/Nationwide Cup Series,
2007 Oklahoma Centennia
2008 AT&T Yellow Pages
2009 Go Daddy
2010 Mark One Eletric
2011 Ruby Tuesday/Discount Tire
Winston/Nextel/Sprint Cup series,
2008 - 2009 Go Daddy.com
2010 K - Automotive Motersports
2011 - Present Miller Lite
Ad blocker interference detected!
Wikia is a free-to-use site that makes money from advertising. We have a modified experience for viewers using ad blockers

Wikia is not accessible if you've made further modifications. Remove the custom ad blocker rule(s) and the page will load as expected.